Change is difficult – it's not impossible!
When was the last time you tried to change something about yourself
 you felt was important to your success? Did you achieve and sustain your improvement goal?
Change can be difficult. At times, we can even feel our resistance to making important changes. How about your New Year's resolution to lose those last 5 pounds? Or the performance evaluation where you were, again, reminded about your lack of decisiveness or noticing how you continue to struggle listening to another person – particularly when it's your own children. You got it! Change can be hard.
Change is something everybody is interested in whether it's gaining more self-confidence, reducing stress, losing weight, acting more decisive or ending procrastination. Most of us find initiating and sustaining some changes are difficult whether for personal improvement or a work goal.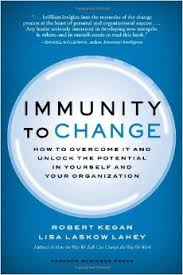 Learning the Immunity to Change™ process can help you begin to see how your habits and mindsets can create an overwhelming resistance to the changes you most desire. Linda will show you how to make these barriers to change visible by utilizing the well-researched, Immunity to Change process.
This process will enable you to see how deeply hidden barriers keep you from achieving your big goals. Through a workshop, individual or team coaching, this process can provide you with a concrete and meaningful path toward realizing your important development goals.
Interested in creating your own map? Curious to learn how the ITC can help you or your team overcome barriers to change? Contact Linda .